I've dreamed of owning a reMarkable tablet ever since their original Kickstarter, but like so many people, I've shied away because of the steep price point. Adding up the cost of the tablet itself ($399 for the reMarkable 2, or $299 if you sign up for their new cloud storage plan), the marker ($49-$129), and the folio ($69-$119) — because if I'm spending this much on a tablet, you can bet I'm buying a protective cover — that's a cost of $417 to $647 for a device that I would use for one specific task:
Converting my handwriting to typed text so I don't have to type it up myself!
I love writing by hand. I'm in love with the ivory paper, faint gray lines, and minimalist style of Midori's MD Notebook. There's nothing better than sitting down with a steaming mug of tea and a freshly filled fountain pen. But while I love the experience of writing by hand, I don't love the time required to type it. Voice-to-text works to a degree, but it often fails with quotations and non-typical character names, and autocorrect doesn't activate to replace smart quotes and em dashes. First-world problems indeed but still irritating, and a reason I often fall back to writing on a device. Convenient, yes, but I don't feel as connected to what I'm doing.
To celebrate the end of 2021, I decided to take the plunge and order the reMarkable. A friend who owns one had dutifully answered my laundry list of questions about how it worked. But to be safe, I researched recent reviews and remembered that the people at Rakuten kobo had developed their own paper tablet: the kobo Elipsa.
Like the reMarkable, the Elipsa offers handwriting-to-text conversion plus the functionality of an e-reader. Its $399 price tag includes a stylus and sleep cover, and unlike the reMarkable, the Elipsa doesn't require a subscription to sync your files. It works with Dropbox.
I like kobo's e-readers. I have a Libra H2O and it's been a fantastic companion these past two years. It's also in excellent condition, so I didn't really want to spend $399 for a second e-reader.
A little discouraged, I read comparison reviews of the two devices and glanced at the comments section. That's where I learned that Elipsa's handwriting recognition software, created by MyScript Interactive, is available for free in MyScript's app Nebo.
Yes, free!
Nebo app is available in the app store, Microsoft store, and Google Play. With the free version, you can create documents, write all you want, and export your text either to another app on your device OR copy and paste it. If you'd like to annotate PDFs or export in different formats, for a one-time fee, you can unlock all of the features. I happened to catch their year-end special and unlocked the app for only $5!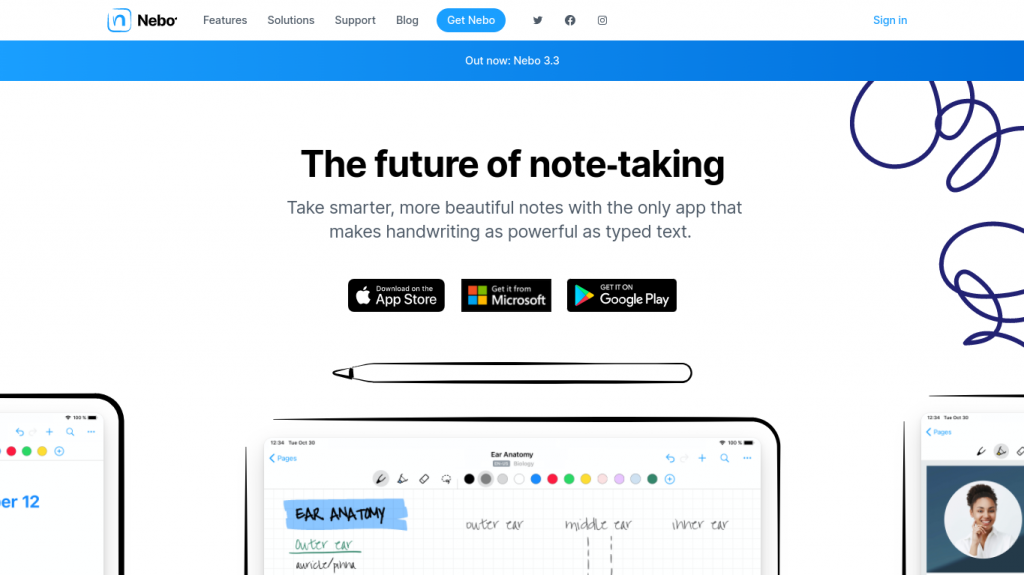 Nebo's handwriting recognition is fantastic. I wasn't sure if it would be able to read my handwriting, which is quite small and stylized. I have a habit of only implying certain letters (like the lowercase "i"). But Nebo accurately deciphers the majority of my words, including atypical character names and most punctuation marks (we're struggling with our em dashes but quotation marks are spot on). AND it allows me to erase by scribbling (so satisfying!) and break/join words and lines to move things around.
You won't have to wonder if Nebo will get your words right. The app displays a text version as you write.
You can set the ink and highlighter color (and customize it!) as well as the line thickness. And the page keeps scrolling! No running out of paper.
I have no complaints so far. The only peculiarity, which I attribute to my handwriting, is that the word "the" often disappears after I write it. (I think Nebo believes the crossed T is a strikethrough.)
Here is my setup, which mimics the functionality of the reMarkable and Elipsa:
My total was about $140, a savings of $357 over what I was going to pay for a reMarkable and its accessories.
If you already own a tablet and stylus, installing Nebo costs you nothing. I invested in an Apple Pencil, since my old passive stylus (53's pencil) has a wide, rubbery tip that isn't great for my tiny handwriting. I also bought the Paperlike screen protector to reduce glare and give me a touch of friction for more of a writing-on-paper experience.
This screen protector was a splurge. I had no issue with the feel of the Apple Pencil on the iPad's screen, but I'd read good things about the Paperlike. It does feel closer to writing on paper, and my handwriting appears a bit neater since I've applied it. It noticeably reduces image sharpness, though, so I wouldn't recommend it unless you use your iPad primarily for writing or art. But it does a great job of eliminating glare. I stopped noticing the reduced sharpness after about a day. (I've read that the Paperlike can wear down your Apple Pencil tip a bit quicker, if that's important to you.) Paperlike's installation video is great. It's the first time I've applied a screen protector with such precision. No bubbles or dust, and perfectly aligned!
The Paperlike is only made for the iPad, but a search for "paper feel" screen protectors might turn up something for your device.
With this setup, I was able to punch through a bout of year-end creative block. Nebo gives me the satisfaction of writing by hand alongside the practicality of typed text. I can happily scribble a story while enjoying some tea, then paste the text into either Notion or Scrivener for editing.
Is there a cheaper alternative to the reMarkable 2 tablet?
Absolutely. If you're thinking about investing in a reMarkable or Elipsa, and you already own a functioning tablet and stylus, consider Nebo as a free alternative. Or you can always download it to test if handwriting-to-text software is something you'd actually use as a part of your writing process before you shell out $400.
Does the Paperlike screen protector let you write in the sun?
I tested this outside yesterday. (It's March now and I'm updating this blog post.) Surprisingly, YES! I was able to see my screen and write on the deck in full sun.
iPads will overheat in the sun, so I kept my back to it and used my shadow to improve visibility, but I didn't have to. I could see my home screen, the app icons, the navigation menu within Nebo, and even the horizontal rules.
Can you read in the sun with the Paperlike screen protector on your iPad?
To a degree, yes. I don't want to make it sound like the screen will appear bright like it does indoors, but I sat outside this morning with tea and easily read a short story I wrote a few weeks ago.
Is it worth paying to unlock Nebo App?
For me, yes, it has been worth paying to unlock Nebo. I compiled a draft in Scrivener and used Nebo to read and annotate it prior to making changes. Being able to do that on a single device was worth a few dollars.
But before you pay for the app, just use the free version and see how it fits into your workflow.