When I painted my formerly lime Character Room, it was to breathe life into a dark, north-facing room I rarely entered. It's where I stashed most of my fandom stuff: a happy, bright space I used for workouts and the occasional freelance job. But a color that's invigorating for an hour on the odd evening isn't necessarily the one I want to soak in for eight plus hours, five days a week.
Plus I've always hated the carpet in that room. It's the softest in the house but is the uninspired color of weak chocolate milk.
After I found myself avoiding going into that room for two weeks straight, I knew a change was in order. I was on the verge of ordering a color from Backdrop (I've used their paint in four other rooms) when my mom texted to say she was running to Lowe's, so I took it as a sign. I painted the room that evening to a rewatch of Downton Abbey (we bid farewell to Mr. Pamook as I was nearing the closet). I've always liked Valspar, but their paint is even better than it used to be. It only took one coat to cover the walls with almost no touch-up the next day.
I only spent $58 for one can of flat Valspar paint/primer, a 3-pack of rollers, a roll of marble contact paper to cover my desk, and a little tub of lightweight spackle. I sourced art/furniture from around the house. My desk is now under the window instead of shoved against a wall, so I have a pretty view and the room feels much brighter. Ilyusha the lucky bamboo seems much happier in here than the bathroom, and provides a visual buffer between the doorway and the new seating area.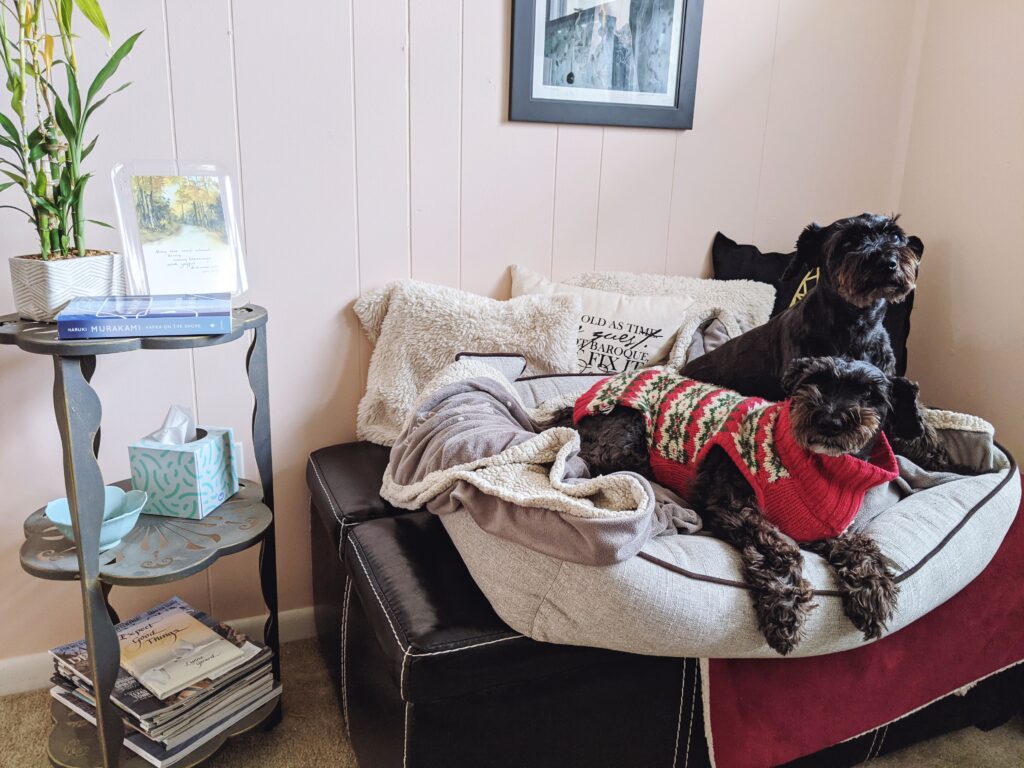 I let the paint dry overnight and went to bed, saving room staging and finishing touches for morning. I'd initially planned to position my desk in the back right corner of the room, perpendicular with the wall with the closet, but it turns out the plugs there are connected to a switch. I could easily turn off my computer by accident, so that spot wasn't an option. I decided to float the desk so I would sit beside the windows, which has made this room so much more pleasant to work in! It doesn't feel as dark now that I can turn my head and look at the trees.
Another bonus of this desk position is that it's easy to turn my monitor when I'm on the elliptical (anime eps are perfectly sized for workouts).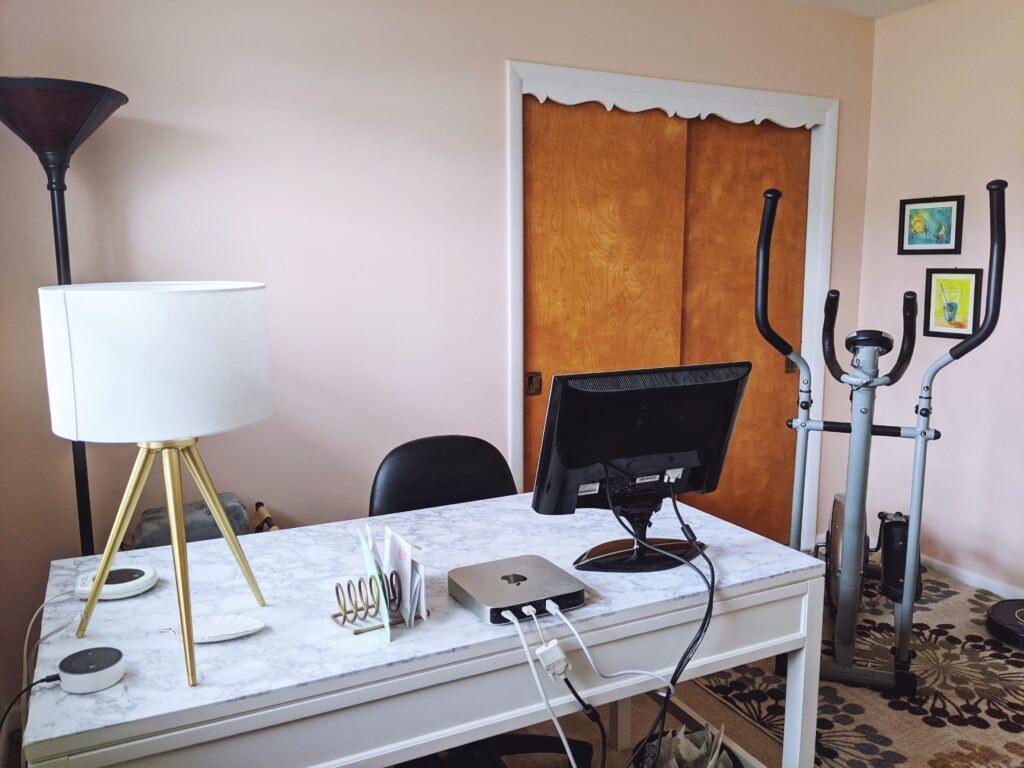 Getting the contact paper onto the desk was a little tricky. The kind I'd found at Lowe's was a bit thin and fought me as I tried to smooth it, but I loved it once it was done. It covered years of slight discoloration and scratches and tied the room in with marble accents around the house. If you're thinking of covering something with contact paper, watch a few YouTube videos first to get the hang of it. I'm so grateful I'd done this or I would've ended up with a wasted roll and a lot of frustration. I'd recommend cutting your paper larger than you'll need. You can always trim the edges. Use a rigid object like a credit card to smooth the paper as you get it in place. I used a push-pin to poke teensy holes and smooth the remaining air bubbles.
I had the room mostly back together about the time I usually start work, though it took a few days to decide where to hang the art. I put my favorite painting directly in front of my desk so I could see it throughout the work day.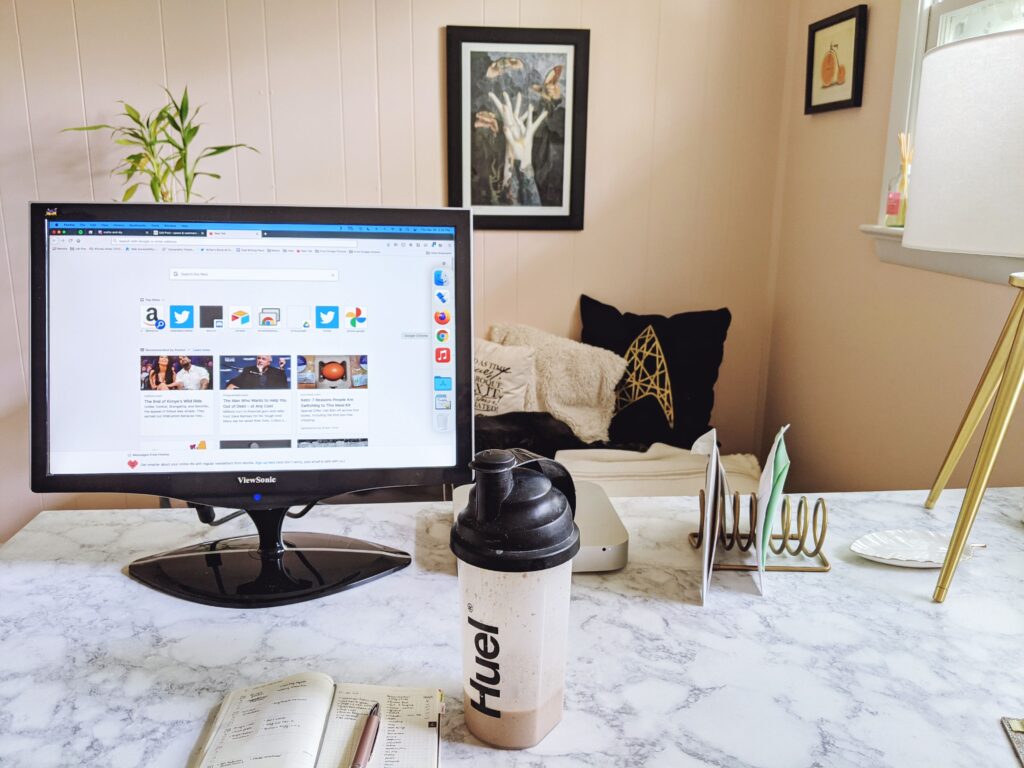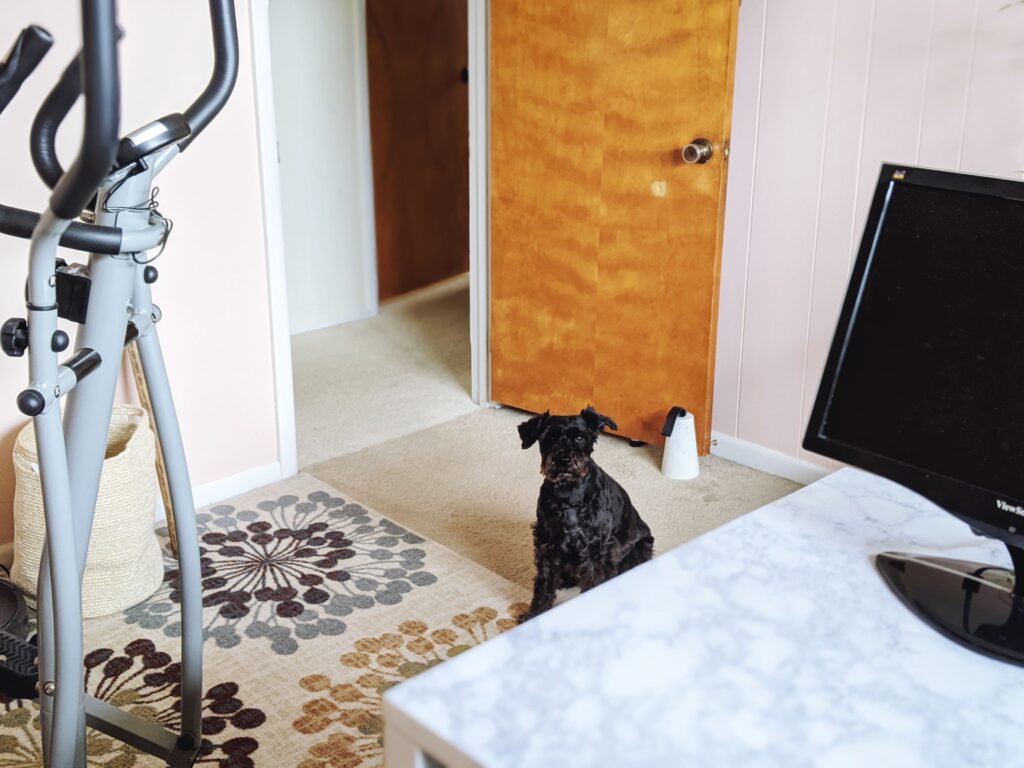 So far, so good! The new office feels calmer and is a lot more pleasant to sit in for a day. Paint might not be the easiest or quickest fix (I'm usually sore the next day), but it's my favorite way to get a drastic change for low cost.
List of stuff:
Valspar Signature Interior paint in Morning Glow (2002-8C)
The orange bicycle print on the back wall is Zest by Florent Bodart
The large print above the dogs is Addiction by Yohey Horishita (my current favorite piece of art)
Desk from the Martha Stewart / Home Decorators collection (10+ years old)
Ottoman/twin-bed-pullout was from Overstock.com & is out of stock (I bought it in 2010)
Striped cotton blanket was a Causebox exclusive
Floofy cream pillow covers from Pottery Barn (2011 catalog)
Bamboo tissues from Who Gives a Crap
Lucky bamboo & white pot are from Lowes. Ilyusha is named after a character from 07-Ghost
Marble shelf liner (used to cover my marked-up desk) is from Lowe's
The leaf dish was a gift from a friend (I always collected leaves on my desk at work, and she knew I wasn't doing that now that we work from home)
My chair is covered in leftover Tommy Bahama fabric I had around the house. I just used a staple gun to cover the seat, which had started to tear from overuse
I have no idea where my mom found the metal side table 🙁
I put the Gaspar Luggage Rack from Ballard Designs next to my desk to hold blankets & the bag I stuff with office supplies and carry around the house (I often work in the kitchen when it's sunny)
My elliptical is an older Sunny model I bought years ago from Overstock.com
The dogs are lying on their lounge bed from Jax and Bones (I think we got the Newport Wood in medium)
The Star Trek pillow was from ToBoldlyHold on Etsy
The three-legged brass lamp on my desk is from Target (it's a few years old so I don't know if they still have the same style, but they always have a slew of lamps)