Growing up, Brussels sprouts were the terrible little sour, soggy boiled things shoved to the corner of my plate. It wasn't until I found Cookie + Kate's recipe that I fell in love with them. Ina Garten also roasts them.
The carrots were inspired by Wolfgang Puck's Masterclass. He said not to be afraid of really cooking them, and he was right. They were delicious. My carrots were past their prime; I'd forgotten they were in the fridge and they had started to go soft. This salvaged them. No food waste!*
*Luke the dog stole the carrot tops off of my plate. So…seriously no food waste. ?
As with most things I make for myself, this is not a precise recipe. I'm no cook, just someone who likes messing around in the kitchen. Please adjust everything to your preference and cook things until they seem done to you. If you don't like curry powder, salt and pepper alone would work. This would also be good with garlic powder or maybe even lemon pepper. (Did anyone else grow up on that? I'm super fond of it.) If you experiment, let me know what you discover.
Clarification: When I say curry powder, I mean the premixed spice blend sold at American grocery stores. Mine is from Simply Organic and contains cumin, turmeric, and cayenne pepper, among other things.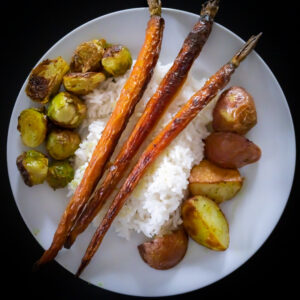 Roasted carrots, Brussels sprouts, and red potatoes with curry powder
What you'll need
A few carrots, greens cut off but tops still on

(I didn't bother to peel mine)

Four or five red potatoes, quartered

A pound of Brussels sprouts

Vegetable oil

(olive oil if you're feeling fancy)

Curry powder

Salt and pepper

(I used pink Himalayan sea salt because it's pretty)

Freshly steamed rice

(eough for one or two meals, or however much you like to prepare)
How to make it
Preheat the oven to 400°F. Put your rice on to steam.

Cut the ends off each Brussels sprout. Remove any yellowed leaves and cut larger ones in half.

Place carrots, potatoes, and Brussels sprouts on a baking sheet. I use a Silpat to make sure nothing sticks. Parchment paper would also work. You could skip this step, but you might need to scrub your baking sheet afterwards.

Pour a little oil over everything and toss it around so it's thoroughly coated. Keep the Brussels sprouts together so you can easily remove them mid-cooking. Season everything with salt, pepper, and as much curry powder as you like. I used a light dusting on everything.

When the oven is ready, put in the baking sheet for 25 minutes or until the Brussels sprouts have started to brown.

Remove the baking sheet from the oven and turn the Brussels sprouts with a spatula. If they look cooked, remove them from the baking sheet and set them aside.

Turn the potatoes and carrots. Return the baking sheet to the oven for another 10 to 15 minutes, or until the carrots start to get dark and the potatoes look crispy. (Don't worry if your carrots caramelize to the point where you're a little concerned they're burning. Wolfgang Puck assures us they're delicious this way.)

When the carrots and potatoes are cooked to your liking, remove them from the oven. I plated the rice first, laid the carrots on top, and placed potatoes and Brussels sprouts on either side. This would also be cute in a bowl, which would make it easier to eat on the couch!
Notes
I made beets the same way the other day and served them with quinoa, so if you have a few, they might be a worthwhile addition.