I'm a Mac user, so it was with some trepidation that I went back to an Android in 2017. But my iPhone's battery was going, and if I replaced the phone, my existing $45/month didn't-exist-anymore-but-we'll-let-you-keep-it-if-you-give-us-your-soul Sprint plan would be defunct. I'd have to upgrade the plan and pay an extra monthly fee for having a smartphone (???), which was going to push me over $75 a month.
I did some Googling and learned about Republic Wireless. I'd never heard of them, so I was immediately on guard. But the reviews I found were glowing. They praised Republic's affordable cost and customer service. (I don't know if you've ever had the pleasure of dealing with Sprint's team, but they weren't my favorite.)
For $20 a month (plus the cost of a phone, or I could bring one), Republic was going to give me the same service I'd been paying $45/month to get from Sprint. They were also contract free.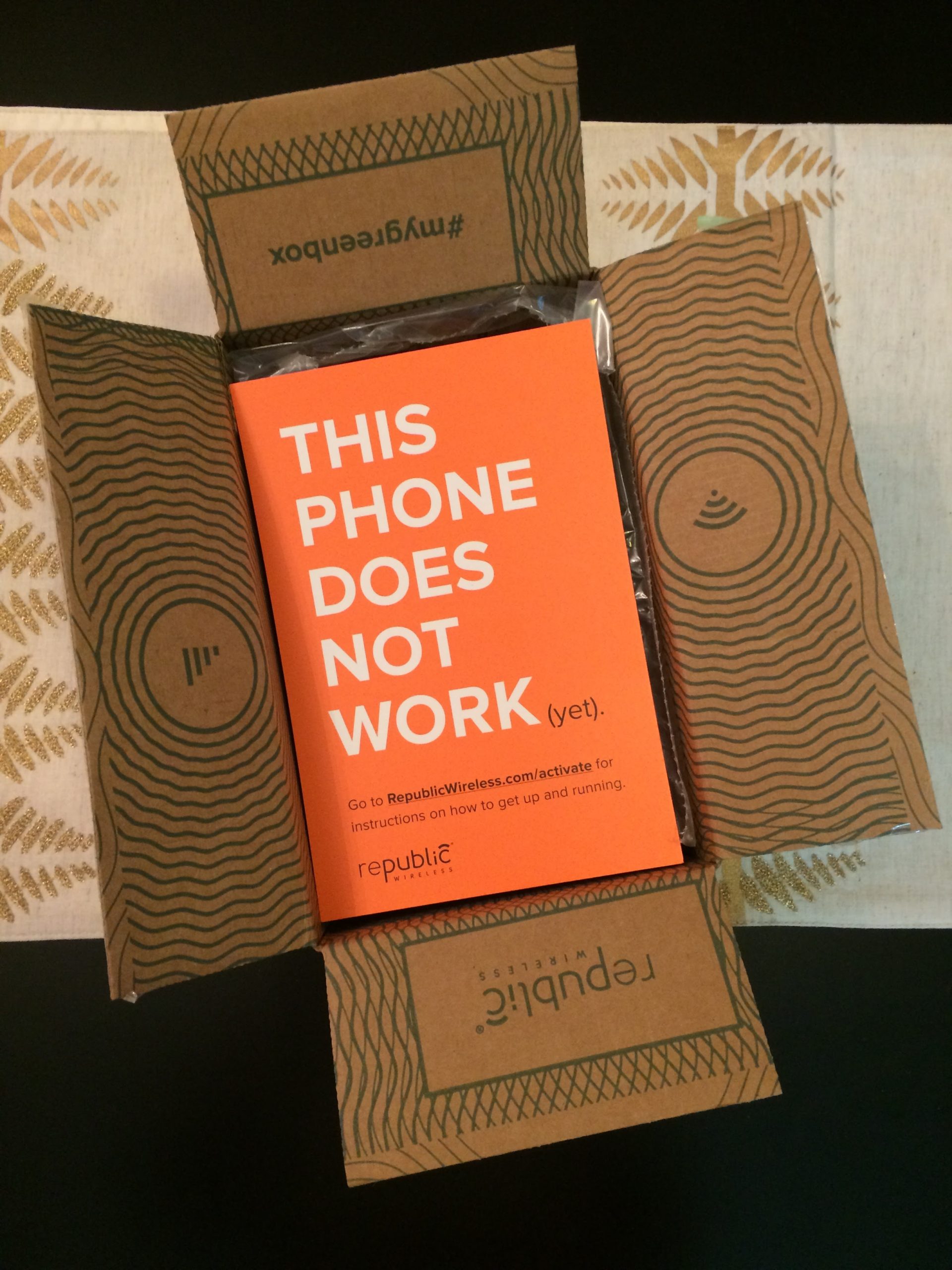 On September 1, 2017, I bought the most affordable phone in their store: a 16G gold Moto E4, which cost $105.81 after taxes. Since I bought the phone from Republic, my SIM kit (regularly $5) was free. Everything showed up a few days later, and I happily fired Sprint.
I've been a Republic Wireless customer for 937 days and have zero complaints. Assuming I'd stayed with Sprint and had to pay them $75/month to continue my existing level of service, I estimate I've saved at least $1,600 by switching.
Here are my pros & cons:
The pros of Republic Wireless:
No contracts.
Change your plan as your needs change.
Apparently they don't check credit to open an account, so if that's important to you, there's another bonus!
They have nationwide 4G LTE. I've never had a coverage issue since switching to Republic.
Their base plan is $15 a month for unlimited talk and text. Add data for $5/month per GB. I have unlimited + 1GB of data.
The Republic app shows me how much data I have left for the month, how many days are left until my next month starts, and gives me the option to add data if I need to. I can also see what apps use the most data and manage that.
I've never paid one weird fee. My bill is always ~$23/month after tax.
You can bring your own unlocked phone if they support it & just buy a $5 SIM kit.
Just like with other carriers, you can bring your phone number. They have a tool on their website to confirm your number can be transferred in advance, if you're nervous.
Easy activation + number transfer. I was up and running in a few minutes.
Easy switch to a new phone as an existing Republic Wireless customer. I used my Moto for two years, then upgraded to a Pixel in September 2019. Everything transferred over seamlessly.
Sometimes they do sweet things like give everyone extra data at the holidays!
The forum is helpful and active.
The cons of Republic Wireless:
You have to buy a phone outright, which means a bigger up-front cost if you're used to a free phone with a 2-year plan, for example (but you might be able to finance depending on where you buy).
They don't support iPhones.
It could be cheaper to buy a phone from somewhere other than the Republic store, so do a little research first! And make sure the model you're buying is one they support. This took a little bit of digging when I got my Pixel, but the Republic forum had the info I needed.
Because Republic uses VOIP, you can't verify a Twitter account using a Republic Wireless phone number (but you can use a landline).
Big negative for anyone who uses Discord: Discord will not accept a RW number to verify your account, and they will not accept landlines. Mobile only. So if you don't have someone else's phone you can use, only RW, you're completely out of luck if you want to join a high-security server.
September 2022 update: After several years of Discord rejecting my Republic Wireless phone number, they sent me a verification code via text today and verified my number!
Try them out
If you're thinking about switching, here are some helpful links:
Get $30 off your first bill using this link
That's my personal referral link. To the best of my knowledge, it's just a coupon you can use. It's not an affiliate program and I don't think I get anything back but happy feelings if you find it helpful.
TL;DR Stop paying thousands a year to a cell phone company that locks you into multi-year contracts and consider Republic Wireless. I haven't missed my iPhone once.
---
Updated October 2020 to add information about Discord.